Recent Interviews
About Press Play and Record
Retailers of Note
Websites of Note
Site Feeds
The Quarter After Changes Near
Monday, June 30, 2008

If there's one guitar tone I love, it's the Rickenbacker. To succinctly describe the sound: if you hear a record that makes you think of the 1960s, or if a song makes you think of the Byrds or bands of that sort, chances are you're hearing a Rickenbacker. Roger McGuinn made it famous with his band of Byrds, and, really, its rustic sound made many psych-rock bands sound even more down-home.

Two fellows who have an expert mastery of the Rickenbacker guitar are brothers Dominic and Robert Campanella, the masterminds behind the excellent The Quarter After. These two fellows are veterans of the modern folk-rock scene, and, unsurprisingly, their musical roots lead through and reveal members to have been in Brian Jonestown Massacre, as well as having worked with Brian Wilson, Beachwood Sparks and the Tyde. But that doesn't matter because The Quarter After's sound is clearly their own; heck, if you're a long-time reader, you'll remember that I sang their praises for their first album--and I still stand by my loving words!

Their new album, Changes Near, is a beautiful slab of harmony-soaked, weed-sceneted mellow psych-rock that can best be described as primo shit. Musically, their styling never really varies; their music is inspired by the good ol' days, but, really, their sound is much more modern. When they throw down those classic harmonies on "Sanctuary" and "She Revolves," my little heart swoons and my little soul is transported into a very beautiful, heady place. When they kick it mellow, like on "Nothing Out of Something" or "Winter Song," your cares and stresses of the day, they simply float away.

But what makes them great is how they utilize a sound that might seem trite and cliched and make it sound fresh. In a weird way, a song like "Early Morning Rider" or "See How Good It Feels" starts off with a riff that might make you think Dinosaur Jr, but with a quick rock shift, they go into Tom Petty territory, and then they turn around mix both styles together in a beautiful way that will leave you say, "Amazing!" I mean, I dig stuff like this; really, I love stuff like this! I can't really verbalize it and intellectualize it; I simply enjoy this. A treasure worth seeking out and ingesting.

Listen To: "Making Nothing out of Something"

Changes Near is available now on The Committee to Keep Music Evil

Labels: reviews q, The Committee to Keep Music Evil, The Quarter After
posted by joseph kyle @ 6:39 PM

The Acorn Tin Fist
Sunday, June 29, 2008

"Quiet." "Gentle." "Serene." "Tranquil."

These are several adjectives I could accurately use to describe the music found on The Acorn's EP Tin Fist. I have heard good things about them, so I approached this EP as an opportunity for an introduction, and I'm kind of glad I did, because this record is excellent. What makes it so good? Sincere, sweet vocals; gorgeously plucked guitars, banjos, and other rustic stringed instruments; harmonies that simply make your heart melt. The track I selected for you, "Brokered Heart," captures this magic, but I wish I could also give you "Heirlooms," so that you could hear the lushness of its sound. I wish I could give you "Dents," so that you could hear the gentle string arrangements. I wish I could give you "Feral Chilie" so that you could hear the beautiful singing. I wish I could give you "Spring Thaw" so that you could see that the band can turn it up and deliver a powerful upbeat song. I wish I could give you "Maplebees" so that I could break your heart with its heartbreak vibe.

Yeah, I'm glad I bought this EP, because it's a wonderfully concise and curiously strong release--and it makes me want to hear their latest LP, Glory Hope Mountain, even more.

Listen To: "Brokered Heart"

Tin Fist is available now on Paper Bag Records.

Labels: paper bag records, reviews a, the acorn
posted by joseph kyle @ 7:10 AM

The Tamborines Sally O'Gannon
Saturday, June 28, 2008

Here's a damn fine slab of psych-rock pop, straight from London! The Tamborines have concoted a sound that's a little bit old, a little bit new, a little bit borrowed, and occasionally a little bit blue. Sally O'Gannon is a four-song EP, with three excellent songs (one is a demo of the title track)."Be Around" and "Come Together" are enjoyable, but it's the title track that really burns up the speakers. Had the Brian Jonestown Massacre/Dandy Warhols revolution truly taken place in the 1990s, "Sally O'Gannon" would have been the love child of that revolution, as it combines the classic rock elements found in BJM's style, as well as the Dandy's modern pop sensibilites. Oh, did I mention that Frankie Teardrop of BJM is enlisted here for production assistance, as well as Mark Gardner of Ride? Yeah. That's badass. This EP's been out a little bit but I just discovered it, and it's worth the mention. I can't wait to hear more from this excellent group!

Listen To: "Sally O'Gannon"

Sally O'Gannon is available now via Planting Seeds

Labels: planting seeds, Reviews t, the tamborines
posted by joseph kyle @ 1:21 AM

Hammock Maybe They Will Sing For Us Tomorrow
Tuesday, June 24, 2008


Maybe They Will Sing For Us Tomorrow is both a step forward and a step back for Tennessee-based Hammock. It's a step forward in that it's their most mature album to date; it's deeply moving, intricate in its detail, and gentle in its approach. As much as I love Hammock's work, I don't think it's an insult to their storied discography to suggest that this is clearly their best work to date.

In terms of musical ideas, Tomorrow eschews the formula of Raising Your Voice, Trying to Stop an Echo. That record felt a bit more "rock" in that the compositional style felt more traditional; it sounded like the work of a rock band. It was also not an instrumental work; several songs featured the words of Marc Byrd--haunting, melancholy words recalling the passing of a spiritual mentor. Instead, Tomorrow recalls The Sleepover Series, Volume 1 and Stranded Under Endless Sky--two EP's of deep ambient drones and melodies. Irony moment: it was not until last year that Hammock played a single live show. (I'm kicking myself for missing it--had I realized it, I would have been there!) Echo sounded like an experienced live band. The recording method for Tomorrow was inspired by their live performances, and was apparently recorded live.

Tomorrow amazes in its seamlessness; it flows so naturally, so organically, that you never notice when one song ends and another one begins. Heck, sitting down in front of my computer with it playing gently on iTunes, I still can't recognize the seams without looking. This seamlessness is what makes the record so utterly beautiful; it is a restful head-trip. In my restless nights, I've turned this record on, and have used it as a cure for insomnia. At one point, I woke up from it feeling refreshed from what felt like a few hours' sleep, only to find the record was just coming to an end! A deep rest in less than 45 minutes--that's value for dollar, my friend.

Ultimately, though, it's with great honor that I say that Maybe They Will Sing For Us Tomorrow is one of the best albums of 2008. A more beautiful album, I have yet to hear...

Listen To: "This Kind of Life Keeps Breaking Your Heart"


Maybe They Will Sing For Us Tomorrow is available now via Darla

Labels: Darla Records, hammock, reviews h
posted by joseph kyle @ 6:33 AM

Desolation Wilderness Until Forever
Monday, June 16, 2008

Direct your attention, if you will, to the website listed below, wherein you will read about the band Desolation Wilderness, and, more importantly, can listen to the band's wonderful K Records three-song sexy new 7" single, Until Forever. The three songs found therein are small and fragile little things; gentle electronica blips and beeps reminiscent of the late-great 555 Recordings and, at times, Kranky. These three songs are all mood, atmosphere, and, occasionally, buried singing. The first song, "Goodbye Summer Girl," is a beautiful song with gentle waves of atmosphere and lyrics I am going to assume are very pretty. The singing sounds pretty, but you can't make 'em out. The next song, "Gloria," has nothing in common with the song "Gloria"--at least I think it doesn't. The final track, "4/4 Love Song," follows in the gorgeous instrumental meets blurry singing style of the first song.Oh, wait, there aren't vocals. I was fooled. You will be, too. The whole damned thing reminds me of why I fell in love with The Clientele, honestly. This record should have been out in 2000--it certainly sounds like something from those heady days! I'm thinking ISAN, I'm thinking Ma Cherie for Painting. I'll be honest and say that this is an exciting new release from a band you need to hear.

Listen To:Until Forever 7"

Labels: Desolation Wilderness, K Records, reviews d
posted by joseph kyle @ 6:35 PM

Daniel Ahearn Pray For Me By Name

Daniel Ahearn is the dude behind the folktronic pop band ill lit. Dude has a pretty good way with a melody; he's been compared to Beck, and understandably so. Pray For Me By Name is a solo joint, due apparently to the man having his equipment stolen. As a result, the music found on this brief little EP isn't quite like the trippier moments of ill lit; it's more singer/songwriter fare, with occasional alt.country moments, but those are just lazy descriptive categories that mean absolutely nothing. The songs are kind of melancholy, like "San Vicente" and "Jesus Saves," but when he If I had to compare his voice to anyone, it would be the equally underrated Sean Na Na, especially on the sweet "Down for the Count." Though a brief affair, I really enjoyed the listening experience found here.

Listen To: "Down for the Count"

Labels: Daniel Ahearn, reviews a
posted by joseph kyle @ 12:30 PM

Jeremy Kelly Jeremy Kelly
Sunday, June 15, 2008

Decided to take a risk and check out the new self-titled album by experimental guitarist Jeremy Kelly. I know some people think he's wonderful; after spending time with his self-titled album, I see their point. Zilch is the amount I know about Kelly, and I prefer my mysterious artists that way. What I do know is that it's hard to not become enraptured in the gentle, simple guitar styling and quiet, hushed drones found on this album. At times, such as on "Polar Bodies" and "Beyond the River Skai," Kelly's work is haunting and disturbing, like a stroll through a dark thicket on Halloween night. It's not all terror and fear-mongering; on songs like "The King in Yellow" and "August Bootfire," Jeremy Kelly is restful and relaxing. The only song I'm not enthralled about is the closing "White Light from the Black Sun," when Kelly goes all psych-rock freakout; though I like music like that, within the context of the rest of the record, it seems out of place--perhaps because it breaks the peace and tranquility and quietness of the record. But that's why we have 'ignore' features, and it doesn't bother me too much. All in all, this little record has made me want to hear more of this talented man's work.

Listen To: August Bootfire

Jeremy Kelly is available now on Foxy Digitalis

Labels: Foxy Digitalis, Jeremy Kelly, Reviews K
posted by joseph kyle @ 8:48 AM

Carole King Tapestry
Saturday, June 14, 2008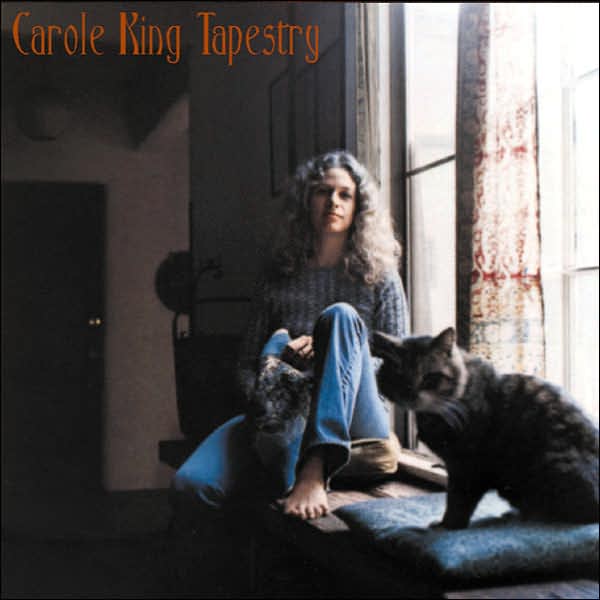 Carole King is a national treasure, a natural woman, and one of the best pop songwriters of the 20th century. Who else wrote songs that were made famous by Dion, Aretha Franklin, the Byrds, Little Eva, James Taylor, and the Beatles, amongst others? Not very many. She's a wonderful songwriter, and her 1971 Tapestry album was, and is, one of the greatest records of the Twentieth Century. I know that's a heck of a lot of hyperbole, but it's truth, it's wonderful truth, and I can still remember hearing this record as a little guy on 8-track.

Sadly, a generation of listeners only knows these songs by watching them massacred by American Idol contestants and wannabe contestants, but it's a testament to how great these songs are in that their greatness isn't tainted one iota by poor performance, singing inability, and delusions of grandeur. I cannot stand "I Feel The Earth Move," but Carole King can get away with belting it out, because it's her song, she's the only one I can believe as having emotions she just can't tame.

And a moment about those emotions--did I happen to mention that some of these songs are just so utterly beautiful in their simplicity that, well, they bring a tear to my eye? Yeah, I'm an old softy, and I'm a sucker for a beautiful song, and Tapestry has a dozen of 'em. Add to the song the simplicity of the arrangements--just a piano here, a guitar there, nothing heavy, nothing too complex. If anything, the simple guitar and piano arrangements makes a large part of the record feel like a demo tape. A wonderful demo tape, too. With classics like "Will You Still Love Me Tomorrow," "So Far Away," "(You Make Me Feel Like A) Natural Woman," and "It's Too Late," Tapestry is one of those albums that is so filled with brilliance that it plays like a greatest hits record.

I'm a fan of the Legacy Edition series, and I jumped at the thought of this wonderful record being remastered, repackaged, and expanded. It's such a perfect album, it should be studied as a lesson in song writing, I was curious to see how it would be expanded. Thankfully, the compilers never messed with it; additional songs on the first disc would ruin it, and a heavy helping of outtakes and demo versions would only have distracted. The second disc is simply the album performed live, taken from a series of a few shows from 1973 and 1976. Only one song is missing, and the rest are simply Carole and her piano. It's no surprise to discover that she doesn't really need a band behind her to make these songs shine.

Few records are as perfect as Tapestry, and that's why the record still sounds fresh and inviting and warm today. This is true pop.

Listen To: So Far Away

Labels: Carole King, Reviews K
posted by joseph kyle @ 9:15 AM

Weekend Report!
Saturday, June 7, 2008


Enjoy some cool sounds for this hot summer weekend! Featuring some wonderful vintage videos, it's a pleasure to present to you some great music for your consideration!

Labels: Weekend Report
posted by joseph kyle @ 11:16 AM

The Uglysuit

If you happen to dig the music of Aaron Robinson, then I suggest you check out this wonderful song I just now downloaded by this great little Oklahoma City band, The Uglysuit. The song is called "Chicago" and is from their forthcoming self-titled Quarterstick debut, due in August. The song is rich on harmonies and mellow rock melodies; it's kind of alt.country, but not really. I have a feeling this young band is going to be big, my friends. So check 'em out now!

Listen To: "Chicago"

The Uglysuit will be released August 19, 2008, on Quarterstick

Labels: The Uglysuit
posted by joseph kyle @ 9:50 AM

Aaron Robinson We Are Racing Ghosts
Wednesday, June 4, 2008

Aaron Robinson isn't rebuilding the wheel, but that's quite all right. I first heard of Mr. Robinson when I received Revive, the final record by his excellent and painfully underrated band, Imaginary Baseball League. It reminded me of a mix of Radiohead and Whiskeytown, and I listened to the album a LOT. I even included the song "Statistics" on an mp3 sampler. I saw him perform live, solo acoustic in Arkansas, and it was a really good show. I liked his music well enough that I didn't want to introduce myself; that distance keeps your idealism safe.

Well, jump ahead four years, and Robinson has released his solo debut, We Are Racing Ghosts. It's a wonderful collection of modern singer/songwriter fare; I'm reminded of Ryan Adams, but Robinson is a pretty powerful singer with a style that's clearly his own. Whether it's the rocking, should-be-a-AAA-format hit "Dreamers Dream" to the dark ballads of "Dreamers and Preachers" or "I Won't Stop," Aaron's songwriting is strong and arrangements are compelling, making his songs stand out from the chaff of most 'singer/songwriter' fare.

I don't listen to as much singer/songwriter/alt.country-type stuff as much as I used to, but for Robinson I make an exception. I'm not too far off in saying that Aaron has a voice and songwriting style that deserves to be big, that deserves the deals, that deserves the NPR radio play. We Are Racing Ghosts is a wonderfully quiet jewel of a record; for those who know its beauty, they know the reward. Robinson is an underrated talent; hopefully, this debut will start to change that.

Listen to: "Dreamers Dream"

We Are Racing Ghosts is available now on Undertow Music

Labels: Aaron Robinson, reviews r, Undertow Music
posted by joseph kyle @ 8:52 PM

Previous Postings
Archives
Vintage Interviews
Blog Ethically!
All songs appearing here are done so either with permission or for sampling purposes only. Files appear here for a limited time only, so act fast! If you possess the copyright to anything posted here and wish to have it removed, please let us know and we shall do so. We're not wanting to cause problems, friends.
Template by